Charles Lindbergh
On May 20-21, 1927 Charles Lindbergh made the first solo, nonstop flight from New York to Paris flight in the aircraft known as the Spirit of St. Louis. After the 3,610 mile, 33 1/2 hour, flight across the Atlantic, Lindbergh became an international hero, and the most famous man in the world. Today, his airplane, the Spirit of St. Louis, hangs in the atrium of the National Air and Space Museum.
So who is this man and how did he accomplish this feat?
First of all, Lindbergh was not from St. Louis. He grew up in Little Falls, Minnesota, son of a US Congressman. From an early age, he was obsessed with airplanes and flying. After graduating from high school, he attended the University of Wisconsin at Madison, however (unlike other people we know) showed little interest and dropped out (or failed) after a year and one half. He drifted around trying to find a way into aviation. He got a job with the Nebraska Aircraft Corporation building airplanes and eventually linked up with several barnstormers.
After W.W.I, there were a glut of airplanes that had been built for the war but never used. The government had thousands of JN-4 "Jennys" for sale at low prices. Men would buy these planes and then fly them throughout the country. They would land in a field then wait for the locals to come by and charge $5 to take them up for a ride. As more and more men got into the business, they had to come up with more spectacular entrances to grab the attention of these locals. They put on displays of aerobatics, wing walking and parachuting. The young Lindbergh hooked up with several of these barnstormers hoping to trade parachute jumping for flight lessons. He served as a mechanic, wing-walker and parachute jumper but received only a couple of flight lessons in return. He finally got his hands on his own war surplus Jenny and started his own barnstorming career.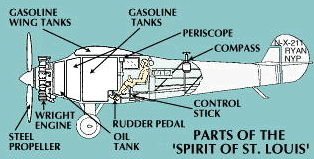 In 1923, he flew into St. Louis to watch the International Air Races. While there, he sold his plane and freelanced as a flight instructor In 1924, Lindbergh entered a US Army flying school at San Antonio, Texas. He graduated first in his class the following year, then returned to St. Louis. He was hired by the Robertson Aircraft Corporation, as a pilot for the first airmail route between St. Louis and Chicago.
At the time, planes were notoriously unreliable. As one flew one of these machines, he would spend most of his time looking for places to land as these early engines could (and would) quit at any time. Pilots had no navigational equipment so there was no flying in cloudy or rainy weather. Three times it became impossible for him to land the plane because he became hopelessly socked in by fog. He was forced to jump out of the plane and parachute to safety. During these flights from St. Louis to Chicago, he hatched a plan to capture the Orteig Prize.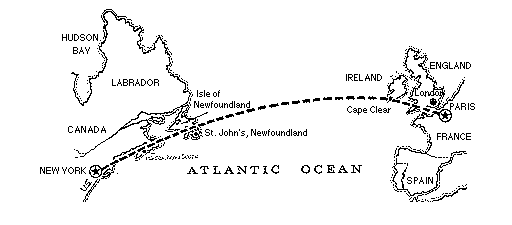 In 1919, wealthy businessman Raymond Orteig, offered a $25,000 cash prize to anyone who could fly a plane nonstop between New York and Paris. Others had tried and others had died. Lindbergh reasoned that instead of taking a longer route above shipping lanes, where he might have the chance for a rescue if forced to land, he would take a direct route. That would bring him over the North Atlantic where he would have no chance of survival if he didn't make it to Ireland. It would also cut many miles and hours off the trip which meant he could use a smaller, lighter plane. He figured it could be done in less than 48 hours which meant he could forgo sleep and pilot the plane with no assistance. He knew of a fine new airplane, the Wright Bellanca, whose "Whirlwind" engine promised to give it a range of 4,000 miles.
He managed to talk a group of St. Louis businessmen into financing his idea and after trying unsuccessfully to buy a Bellanca, found a company that would custom build a plane for him in San Diego.
The Ryan Aircraft company, in a fit of fury, put together a custom built airplane in two months. Time was of the essence as other, better known and financed pilots were well on their way to making an attempt at the prize. Lindbergh supervised the design and build of the aircraft from beginning to end.
He was obsessed with eliminating any unnecessary weight. He had the gas tank put in front of the pilot to prevent the possibility of being crushed by it on impact. That tank filled what would have been the pilot's compartment and blocked off all forward visibility. He figured that most of the time he didn't need to see forward but had a periscope installed for takeoff and landing. He eliminated the radio, gas gauge, parachute, navigational lights, and installed a light wicker chair instead of the standard seat. He cut his maps down in size and carried only four sandwiches and two canteens of water.
Basically he was committed to making the flight, or to die trying. He was either extremely daring or foolhardy. He did everything possible to make the flight a success and nothing to save his life in case it wasn't. Others had died trying to play it safe only to doom themselves by carrying too much weight and crashing on takeoff or going down during the flight, and still not being rescued.
At 7:53 AM on May 20, 1927, Lindbergh took off in his Sprit of St. Louis from Roosevelt field outside of New York City. Thirty three and 1/2 hours later, he landed at LeBouget field in Paris. He was the Woodstock of his generation; the event that electrified and defined a generation. No one could have ever anticipated the worldwide reaction to the feat that took on a life of its own. For all the great things Charles Lindbergh did for the rest of his life, good and not so good, he was and will always be remembered for what he did in thirty three and 1/2 hours.